Swanage Linking Lives
(Formerly Link Visiting Swanage)
We are a small befriending service operating in Swanage and east Purbeck.
Loneliness, especially amongst older people, is increasingly recognized as a real mental, physical and emotional health problem that puts strain on doctors, emergency services and hospitals – but which can easily be alleviated.
We recruit volunteers to visit older isolated people, usually for one hour per week, to provide company, shared interest and activity and often outings. Clients are referred to us by medical services, social services, charities, neighbours and friends. We are careful to assess volunteers and take care to match them with appropriate clients where a friendship can develop. We monitor the resulting relationships carefully. We arrange occasional social events and encourage clients to join other groups in the area. We are also developing telephone befriending.
Download a Client Referral Form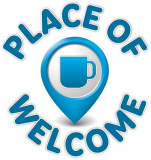 We also open our (small) premises in Commercial Road, near Chococo, as a Place of Welcome drop-in where people can have a free drink, conversation and support. This is Tuesday and Friday mornings 10 – 12. Volunteers serve here just one morning a month.
Sadly, lack of space has forced our closure during the coronavirus pandemic. We will re-open as soon as possible, probably in larger premises.
Download a Place of Welcome Volunteer Leaflet
Every new referral needs a new visitor! If you can help us, by visiting or helping at Place of Welcome, please get in touch:
Swanage Linking Lives
21 Commercial Road
Swanage BH19 1DF
Email: swanage@linkinglives.uk
Tel: 07495 534171

A Great Friendship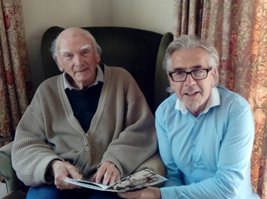 Paul has been visiting John for two years: he was referred to Link by his GP, who thought his health would benefit from more human contact. John, 94, has been totally deaf for 14 years and communicates by written notes but he responds in his own voice eloquently and vociferously!
John said: "Blindness cuts you off from things but deafness cuts you off from people". John has other health problems so does not go out. His wife died several years ago and his two children predeceased him. He said "I used to have one visitor a week. Paul has changed all that. He also takes me out for a cuppa and cake and we recently went to the Link coffee morning on a Tuesday. The Link scheme has been an absolute godsend for me"
Paul said: "Having taken early retirement, I had time on my hands and wanted to do something for the community. I visit John every week and he is a very interesting person. We have got to know each other well, chatting about the news, politics, sport, engineering, Brexit and John's beautiful garden. I came forward to do a good deed but have gained a friend whose company I really enjoy. I would recommend anyone to come forward as a Link visitor."