The Centre
Open Day 1st April 2017
News Flash 10
December 2017
Swanage Youth Club
A successful launch, by Councillor Alex Lejeune on Friday 8th December welcomed youngsters and their parents/carers to the Centre, and invited all youngsters in years 7 and 8 to join the brand new youth club, that will be held every Friday evening during term time.
News Flash 9
October 2017
A successful AGM for the Swanage & Purbeck Development Trust where Swanage Town Council Mayor, thanked the Trust on behalf of the residents of Swanage for all that is being done for the community:
Vibrant Centre with Explorers Wraparound Child Care, Purbeck Runners, Swanage Individual Needs Club, Duke of Edinburgh Award scheme, various community lettings and a soon to open new Youth Club. Watch this space
20 Defibrillators in Swanage and surrounding villages – Swanage Community Defibrillator Partnership
A specialist dementia Admiral Nurse recruited for Purbeck- Swanage and Purbeck Dementia Friendly Communities
25 potential volunteers signposted to local organisations- Swanage Volunteer Bureau
17 lonely and isolated people befriended through Link Visiting
25 people regularly attending Art Workshop sessions
A Kurd Syrian family welcomed to Swanage via the government refugee scheme- Swanage Action for Refugees
and a number of new projects in the pipeline………..
 News Flash 8
May 2017
Explorers are settling in nicely with growing numbers for all ages and activities, it is great to see the Centre so full of happy children. We have also installed new signs that will make us easier to find in Chapel Lane, Swanage BH19 2PW.  And, we had a good gathering for the Swanage Parish meeting receiving positive feedback on our refurbishments.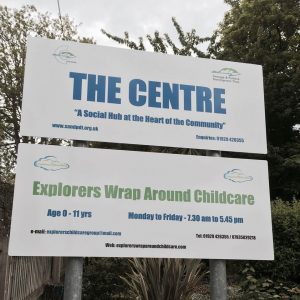 News Flash 7
Amazing progress at the Centre. The building has been massively improved for the community and will be used: during weekdays by Explorers Wraparound Childcare, providing complete childcare for children aged 0-11 in a nurturing environment; Tuesdays and Friday evenings for youth sessions; Wednesday evenings as Purbeck Runners HQ and Thursdays for SINC (Swanage Individual Needs Club). Monday evenings will be available for ad hoc community bookings and we are currently finalising our weekend lettings strategy for community functions, childrens' parties, wedding receptions, concerts etc.
Come and join us for the Explorers Open Day @ The Centre on 1st April from 11am-2pm where you can find out more, sign up and see the new improved facilities. You are all very welcome.
News Flash 6:
A Table Top Sale and Cafe held on Saturday 22nd October, raised £275. We are chipping away at our £100,000 target. If you want to help raise funds, or volunteer – practical help with refurbishment, social media, helping with youth sessions etc etc – we would love to hear from you.(via contact page or on our FaceBook page)
News Flash 5: Successful Grant Application
Following an application and presentation to Dorset County Council yesterday, we have just heard that we have been awarded a grant for the full £15,000 requested.
the Contracts and Grants Officer, stated that the panel were impressed by our application and presentation and regard the way we are taking matters forward as "exemplary."
This grant will help by buying equipment to improve the Centre for our lovely Swanage community.
News Flash 4: The Centre Saved.
We have done it! We have taken over the Swanage Youth and Community Centre, on behalf of the Community. In partnership with Swanage Town Council, Swanage and Purbeck Development Trust has reached agreement with Dorset County Council and will be taking occupation on 19 September. It will be renamed the Centre for the start of a new era. We will be commencing Youth sessions, including the Learning Disability Group, as soon as possible, plus many other activities, as part of our commitment to create a "Social Hub at the Heart of the Community". We will be inviting sponsors and volunteers to help us in this new challenge. We have already started fund raising, to refit the Centre, to make it more suitable for a wide range of uses. We need to establish an income flow to cover our costs and are actively looking for organisations wanting to hire space in this central location. We will be giving regular updates on Facebook and you can visit us, and become a friend, at our new Facebook Page, @swanagecentre. We would welcome your support to make this a successful project for the benefit of the whole Community. Please use the contact page if you want to volunteer, are thinking of hiring the Centre or want to donate goods or services. Or use the donation button on the home page you want to make a cash donation. All very much appreciated.
News Flash 3: Fun Day Feedback
Around  200 people went to the Fun Day and all were positive about the Trust taking on the youth & community centre and expanding to wider community use as The Centre.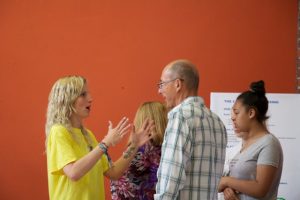 Here are a few quotes and pictures:
"Great place for activities for all ages, abilities and interests"
"Love the idea of extending to make even more use of the site"
"What became clear on the day is the long history the youth centre has and how in the past it is has been at the very centre of the life of Swanage. Many people who have used the centre, been full time, part time or voluntary youth workers at the centre shared their fond, exciting and interesting memories of how the centre has involved Swanage Young People since the early 60's. Clearly Swanage Youth Centre used to provide many sporting opportunities that young people excelled at and a number of bands/groups formed as a result of the centre, everyone was keen to see the centre move towards meeting the needs of local young people without some of the constraints of DCC requirements"
"I believe, by working with the Childrens' Centre, we could make this into an exemplar integrated Child, Youth and family support centre. Lucky Swanage!"
News Flash 2: Successful Bid for The Centre. Please come to a Fun Day on 4th June to celebrate, see what is planned and contribute your ideas.
DCC approved a report, on 25th May, 2016, confirming that they will be handing the current Youth and Community Centre over to Swanage Town Council on or around 1st September, 2016. STC will then give a long lease to the Trust,to enhance and improve the building and its services, to become The Centre, a vibrant social hub at the heart of the community.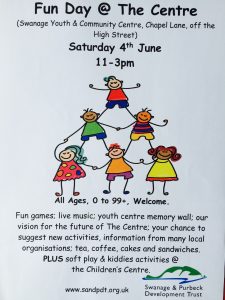 News Flash 1: Swanage Youth and Community Centre- Bid Submitted to Dorset County Council
In a Joint Venture with Swanage Town Council the SPDT has submitted a bid to take over the Centre. The Vision is to create a Vibrant Social Hub at the Heart of the Community, that promotes health, wellbeing, safeguarding and empowerment through the provision of a sustainable programme of youth sessions, learning/training courses, and a range of recreational arts, sporting, and environmental activities and services. There will be inclusive access for young people and the wider community.
Please watch this space for future developments. In the meantime please contact us if you want to support us in any way, and let us know how you could help – general support, donations (money or in kind), funding opportunities, use of the Centre, etc.
Save Swanage Youth & Community Centre
Due to Dorset County Council cut-backs, funding has been withdrawn for "open access" Youth services and Youth centres across the County. A decision was made by the DCC Cabinet on 13 January.
Unless something is done by the local Community the service and the Youth and Community building will no longer be available for the youth of Swanage.
Invitations have been sent out by the DCC to local councils and voluntary groups to provide a business case for taking over the service and the buildings. Business Plans have to be submitted by 31 March and decisions on submissions will be made in Cabinet on 25 May. Successful parties will be able to commence the new services and lease buildings on 1 September. There is limited funding support being made available to share between successful bidders.
The decision by DCC is a serious threat to our local, well used, youth service. It would also represent the loss of yet another building, in Swanage, which is suitable for Community use.
Swanage Town Council and the Development Trust, on hearing that the decision to withdraw was likely, immediately commenced discussions on ways to retain the service for the Community. Replacing the service is seen as the priority but the building is very important as a future Community resource.
A Business Plan is being prepared with a proposal to run both the service and the building. The support of the Community is important to make sure that it is successful.
To make the building viable to cover costs and support the Youth Service, greater use will have to be achieved to increase income. The Development Trust is approaching local organisations to gather ideas for future use and is putting together a financial viability plan based upon costs and income.
The building is clearly in need of repair and refurbishment, which has been neglected by the DCC over the last few years. Fund raising support will be needed to bring the building up to standard and encourage income producing use. Crowd Funding is the preference by DCC but the Town Council and the Development Trust will also be looking at other ways to raise the funding.
Local support will be essential in this process. The Development Trust will be looking for: local volunteers to support the service for the future; local organisations to come up with ideas for using the Centre; applications for renting space and other Community uses; and charitable donations to carry out repair work and improve the building.
We will be posting more information as it becomes available
How you can help
In the meantime, please contact us if you wish to support us in any way, and let us know how you could help – general support, donations (money or in kind), funding opportunities, use of the Centre, etc.